Federal Signal Beacon Ray Light Replacement Gasket Kit
.
.
The Federal Beacon Ray Lights were some of the best lights of their time
but replacement parts are just about impossible to find.
.
.
I am pleased to announce that we now have a
Replacement Gasket Kit
that can replace all the rubber gasket parts in your light.
$ 34.50 Per Set PLUS SHIPPING
To Order Contact Me CLICK HERE. To Send Mail !
.
.
The Replacement Gasket Kit for
Federal Signal Beacon Ray Lights include:
One Dome Gasket in black.
One Base Gasket in white.
4 sets of Bulb Cushions.
4 large Dome Bumpers.
4 Small Bumpers.
One information sheet.
.
.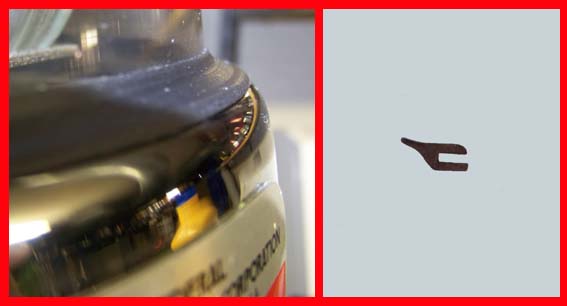 Dome Gasket:
( Photo is blown up so you can see better ! )
This gasket is similar to the original gasket design, but we have extended the lip at the top edge so that it is a bit tighter to the dome.
This lip actually raises up a bit with the dome installed and will shed water better that the original gasket.
.
.
.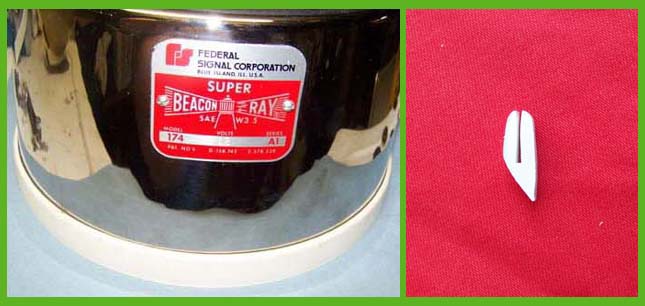 Base Gasket:
We have kept the general design for the base gasket after long conversations with other collectors.
This gasket is made in white to match the original color of the original lights.
.
.
.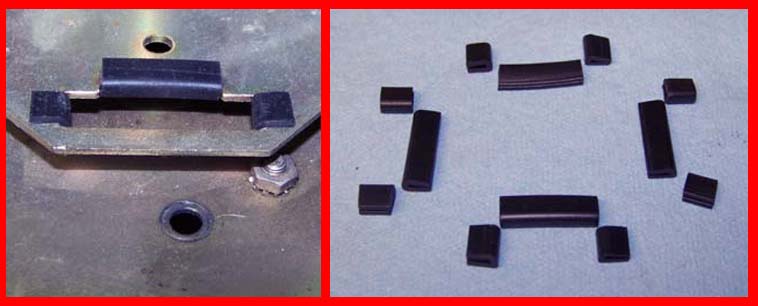 Bulb Cushions:
These bulb cushions are used on all the lights except the model 17.
These cushion the bulb from the steel revolving base.
.
.
.

Dome Bumpers:
We include a set of 4 thick dome bumpers, and 4 thin bumpers for each set.
The thick bumpers are used with the large size plastic domes.
the thin bumpers are used with the glass dome and the thick lip early model 17 plastic domes.
.
.
.
For reference these parts would correspond to the following federal numbers:
Dome Gasket: 8240A004
Base Gasket: 8240a007-01
Bulb Cushions: 8240A241 & 8240A242
Dome Bumpers: 8108A016 & 8108A016-01
Beacon Ray, Beaconray, Beacon-Ray are registered trademarks of Federal Sign and Signal Corporation and used for descriptive use only.
Background:
I have been collecting the Beaconray lights for several years. Unfortunately parts for them are hard to find. I have many lights missing the bottom gasket, and some missing dome gaskets also. I have searched for a good replacement for these and had no luck. Because I know there are other folks out there in the same position as myself, I decided to have gaskets made. The gaskets you see here are all new and have been recently manufactured.
GO TO DCAPTAINS HOME PAGE:
All items are plus shipping

WARRANTY:
"As Is" Sale. The Items sold here are sold "as is" and "where is," without any express or implied warranties.
THERE IS NO WARRANTY, EXPRESS OR IMPLIED, REGARDING THE GASKET KIT, AND THERE IS NO WARRANTY OF MERCHANTABILITY OR WARRANTY OF FITNESS FOR ANY PARTICULAR PURPOSE. IN NO EVENT SHALL DCAPTAIN.COM, IT'S OWNER'S, AGENTS OR EMPLOYEES, BE LIABLE TO CUSTOMER OR ANY THIRD PARTY FOR ANY DAMAGES WHATSOEVER, INCLUDING BUT NOT LIMITED TO BODILY INJURY, PROPERTY DAMAGE, LOST PROFITS, LOST SAVINGS OR OTHER INCIDENTAL OR CONSEQUENTIAL DAMAGES ARISING OUT OF THE SALE, USE OR INABILITY TO USE THE GASKET KIT.